Say goodbye to check-in queues, busy airports and flight delays. Experience the smarter way to fly with Jet Places Air Charter.
Fly when you want and how you want with our wide selection of services and choice of aircraft. For business or pleasure, work and leisure — we'll get you to global destinations in comfort
and style.
Dedicated to meeting your personal needs, our team takes care of all travel details—from your perfect luxury charter jet and tailored travel itinerary, to airport transfers and in-flight catering.
So you can relax, arrive refreshed and make the best use of your time in the air.
Our aircrafts match every need—whether you're looking for a flight to the slopes, a romantic flying experience, or to be reunited with loved ones. Let us take the effort out of travel and arrange a jet charter made just for you.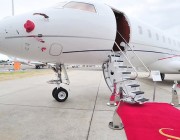 Contact for details and a quote -
click here
telephone - +44 (0)207 98 98 567
Email -
enquiries@jetplacesaircharter.com
Please quote "Luxurybreakshop.com" when enquiring